Salvage & Wreck Removal, Emergency Response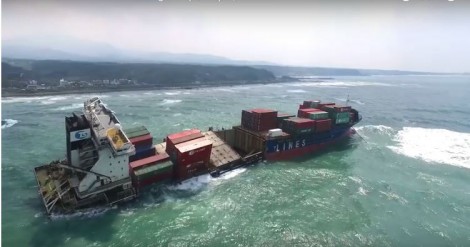 TS TAIPEI grounded off the northern tip of Taiwan on 10th March 2016. Following the grounding the vessel sustained structural damage resulting in multiple tanks and compartments flooding. TMC were requested to assist and attend the casualty acting as representatives for the owners and insurers to oversee the removal of fuel oil and containers. Unfortunately over the weekend of 26th-27th March, during a period of bad weather, the vessel broke into two parts with the aft end taking up a large angle of list. All fuel oil and the containers above deck were removed by salvors by the 5th April 2016 and they continue to work to remove the remaining containers in the holds. TMC remain on site providing assistance and advice on the container removal operation.
Drone footage (not TMC)
https://www.youtube.com/watch?v=uDv8XF9VI4c&feature=youtu.be
Wreck Removal Contracts & Operations Seminar
April 2015
TMC naval architect Marcus Cave will be speaking at the upcoming Wreck Removal Contracts & Operations Seminar, to be held on the 16 – 17 June 2015, at Dexter House, London, UK.
For those wishing to attend the Seminar, the organisers are offering a discount on ticket prices, using the following information:
VIP Code: FKT2937EMSPK – provides a 50% discount for an unlimited number of our TMC Contacts when booking by 17April and 20% thereafter.
You can book by filling in the discounted form on the attached brochure, online, or by emailing

[email protected]

or by calling +44 (0) 20 7017 5511.