Wreck Removal Contracts & Operations Seminar - 16 – 17 June 2015
April 2015 
TMC naval architect Marcus Cave will be speaking at the upcoming Wreck Removal Contracts & Operations Seminar, to be held on the 16 – 17 June 2015, at Dexter House, London, UK.
For those wishing to attend the Seminar, the organisers are offering a discount on ticket prices, using the following information:
VIP Code: FKT2937EMSPK – provides a 50% discount for an unlimited number of our TMC Contacts when booking by 17April and 20% thereafter.
You can book by filling in the discounted form on the attached brochure, online, or by emailing maritimecustserv@informa.com or by calling +44 (0) 20 7017 5511.  
SCR SEMINAR 2015, organised by the ISU in London on 26th March
April 2015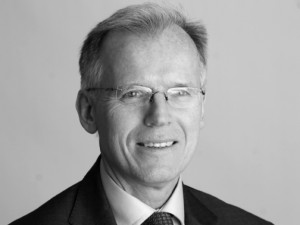 TMC Managing Director Stephen Tierney presented a paper at the recent SCR Seminar organised by the ISU and held in London on 26th March 2015 entitled "SCOPIC Salvage and Interaction with the Authorities". The essence of the presentation was to draw parallels between the efficient handling of a casualty in South Africa where a "single point of contact" in the coastal state made prompt decisions and the casualty NORMAN ATLANTIC off Italy, where multiple authorities were involved resulting in no effective action being followed. The recently published ISU Newsletter "Salvage World" has commented:
"In an excellent talk at the ISU and P&I Clubs SCR seminar, Stephen Tierney, of TMC Marine Consultants, compared the authorities' handling of the NORMAN ATLANTIC with that of the bulker KIANU SATU which grounded on the coast of South Africa with potential for environmental damage. Despite the reputational risks, the South African Maritime Safety Agency handled the incident wisely and with confidence, maintaining dialogue with all stakeholders while allowing professional salvors and consultants to get on with the job. In short, the casualty was pulled from the shore in a tricky operation with minimal delay thereby avoiding a protracted and costly wreck removal. The two incidents may be very different but have a common link. ISU has long called for robust single point accountability and decision making without political interference and these two recent casualties are evidence enough of why it is required."
EASTERN AMBER 
March 2015
Following a collision with a submerged barge at the beginning of March 2015, TMC were instructed by Nippon Salvage to provide naval architecture support for the salvage and oil removal of the EASTERN AMBER on site in South Korea. The 6500 dwt general cargo vessel capsized and remained afloat in an inverted condition at an offshore location to the south of Jeju Island, South Korea. The work was particularly difficult as the stability computer model created by TMC had to show results for the vessel in the inverted condition.
KIRAN
March 2015 
The large Capesize bulk carrier KIRAN, fully laden with iron ore, grounded in the Suez Canal in January 2015, temporarily blocking the canal until pulled clear by Suez Canal Authority salvage tugs.   The stricken vessel subsequently lay at anchor off Suez, with flooded ballast tanks forward and heavily down by the bow.  Salvors were appointed under an LOF contract and it was decided that the vessel had to be partially lightered of cargo before transit to a repair port.  When SCOPIC was invoked on March 19th TMC's Technical Director Colin Barker was appointed as SCR.  During a three week operation more than 26,000 tonnes of cargo was lightered and the damaged vessel made ready for a tug escorted passage to the repair port.
LNG COURSE RUN BY TMC IN SINGAPORE
March 2015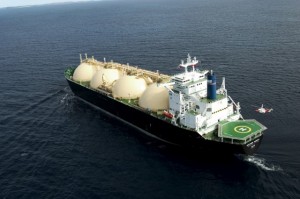 TMC's Neil Macnab is running two LNG training courses in Singapore, from the 16th to 19th of this month.
The first course is detailing the expanding market and opportunities for bunkering vessels with LNG and developing the Small Scale LNG Infrastructure. Included is an in course activity for developing your own LNG Bunkering Infrastructure and what needs to be considered.
The second course deals with LNG Tanker operations and the cycle of loading and discharge operations and preparations before and after dry dock. An emergency response scenario for an LNG spill will also have attendees playing the roles of ship and office staff responding to the emergency.
For further details please contact TMC Singapore.
HOEGH OSAKA – DISTRESSED CARGO MANAGEMENT
February 2015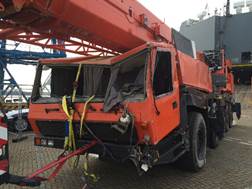 A team of TMC cargo surveyors has supervised unloading operations of the distressed cargo from the HOEGH OSAKA. Operations were concluded on 5/2/2015.
TMC Cargo team is now co-ordinating survey work ashore. In excess of 30 different cargo interests' appointed surveyors are being invited to join Owners' P&I surveyors to carry out cosmetic inspection of the cars and H/H (high/heavy) vehicles currently stored at Southampton Docks. Survey work is estimated to last two weeks.
TMC Cargo team is also closely liaising with Salvors' lawyers, Owners' local operation office and the stevedoring company in the matter of the release of the cargo upon placement of salvage security and the surrendering of the relevant Bills of Lading in order to allow cargo onward shipment or its return to manufacturers premises for the necessary functionality tests and repairs.
TMC SPEAK AT PICC SPONSORED EVENT IN SHANGHAI
February 2015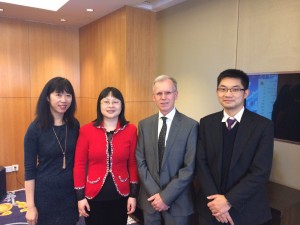 TMC was invited by PICC PROPERTY AND CASUALTY COMPANY LTD , Shanghai Branch, to speak to an invited audience of claims executives and shipowners on the subject of Salvage & Wreck Removal contracts.
TMC Managing Director Stephen Tierney and TMC Shanghai General Manager Anne Poulter made a joint presentation in English and Mandarin, outlining the practical application of LOF and LOF-SCOPIC contracts, together with use of the BIMCO Wreck forms. TMC used a real example as a case study where TMC was appointed as onsite representative by PICC and had worked together on the salvage of a Chinese-owned container ship grounded in a foreign port. The casualty was successfully re-floated in a short timeframe and salvage costs kept under control, with the assistance of TMC .
TMC Managing Director Stephen Tierney commented; "The presentation was very well received, judging by the feedback. The audience found the presentation delivered by TMC informative, educational and a great learning opportunity and TMC was able to demonstrate the depth and breadth of their knowledge and experience in the field of salvage & wreck removal. Already several requests for further presentations from audience members have been received and we will be delighted to carry these out in the near future."
Adam Lewis Joins TMC 
February 2015 
Adam Lewis is a highly experienced marine engineer educated to degree-level and with a first class certificate of competency who joined TMC in February, 2015. During a career spanning some 24 years, Adam sailed in all ranks up to chief engineer. After moving ashore Adam progressed his career gaining valuable statutory surveying experience at MCA and extensive ship modification / repair experience with a major Shipowner before moving into marine consultancy with a well-known London based firm To find out more, Click here.
TMC OPEN HOUSTON OFFICE
January 2015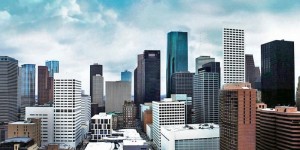 TMC are pleased to announce the opening of a new office in Houston, Texas. Tom Masters , a well-known and highly regarded senior consultant will head up the Houston office of TMC Marine Inc., which is located just off the popular Energy Corridor and Sam Houston Tollway, to the west of downtown Houston. We anticipate Houston will become the hub office for our Americas' operation over the next few years. We look forward to being closer to our existing clients in the Americas and to making and serving new clients in the region.
TMC Marine Inc.
10777 Westheimer, Suite 1148
Houston, Tx 77042
Email: tm@tmcmarine.com
Direct Dial: +1 (713) 260-9682
US Cell: +1 (832) 202 4381
UK Mob: +44 (0)7876 881319
HOEGH OSAKA
January 2015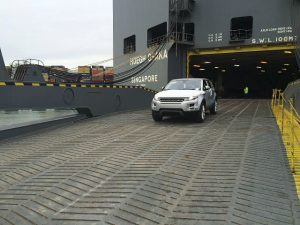 TMC has been appointed to assist Owners and P&I insurers with the assessment, discharge and survey of the vehicles from vessel which suffered a recent grounding incident whilst leaving the port of Southampton. A team of TMC surveyors, based in TMC's Southampton office assisted with the planning and logistics of dealing with a large volume of vehicles. Discharge of vehicles commenced on 27th January and is expected to take approximately one week.
A separate TMC team is assisting Owners and P&I Insurers with the investigation of the incident.