May 2017
TMC continued with their on-going assistance to MOF (Korean Ministry of Oceans & Fisheries) in their recovery of the hull of SEWOL in one piece, and on 23 March 2017 in good weather conditions and near neap tidal strengths, the contractors SSC (Shanghai Salvage) successfully completed the side-lift of SEWOL to the surface using 2 x lift barges fitted out with 66 x 350t strand-jack units attached to 33 x underside beams. In a delicate operation which took over 27 hours to complete the ascent to the surface went smoothly.
Once on the surface at the designed 60% emerged position (13.5m above water), drainage of the hull took place in order to reduce weight. The following day on the 24th of March, with the good weather continuing, the convoy of barges + SEWOL were gently towed by a flotilla of 7 x tugs and floated over the 72,000t semi-sub vessel WHITE MARLIN some 3 miles away. Once in position, WHITE MARLIN de-ballasted to the design position and gradually took the weight of SEWOL. By 2353hrs on the 24th of March, the full weight of SEWOL was on the semi-sub vessel. When fully de-ballasted the strand-jack wires were dis-connected and the barges departed.
Several days were spent draining the water and mud from the hull of SEWOL, in total several thousands of tonnes were drained. On 31st March 2017 arrangements were completed in Mokpo New Port and SEWOL, loaded on the deck of WHITE MARLIN, made her way through the islands of South-west Korea to her allocated berth. SEWOL arrived alongside where the Families of the deceased were waiting to greet the vessel.
On the 9th of April, 600 axles of trailers for load-in of SEWOL to the quayside at Mokpo new port were arranged and the hull successfully delivered on to the quayside, thus completing the delivery of the hull in a single piece, as required by the Korean authorities.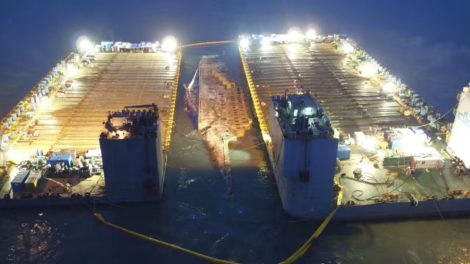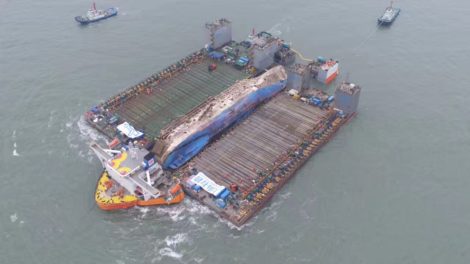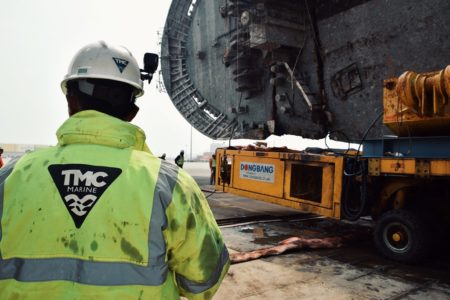 ---
May 2017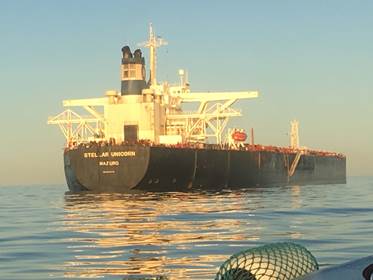 TMC has been appointed by Steamship Mutual P&I Club on behalf of the ship owner to investigate the cause of the loss of the VLOC Stellar Daisy and the reason for a hull crack recently found in the hull of the VLOC Stellar Unicorn.
---
May 2017
On 4 April 2017, whilst the MSC DANIELA was proceeding off Colombo, Sri Lanka on passage from Singapore to European ports via Suez Canal, a fire broke out in the deck containers stowed on board. TMC has been appointed by Maersk Line / Gard P&I to deal with the distressed cargo management related to several hundred containers, which are presently being discharged in Sri Lanka.
---
April 2017
TMC Marine, Bureau Veritas and the London P&I Club, have jointly cooperated to produce a booklet providing operational guidance for vessels that carry cargoes which may liquefy.
The purpose of this booklet is to provide general guidance and practical advice to masters, ship owners, shippers and charterers on the loading and the carriage of bulk cargoes which may liquefy, the risks associated with liquefaction and the precautions that can be taken to minimize these risks. It is not intended to replace IMO regulations and guidance notes or documentation forming part of a vessel's safety management system; the guidance is a practical tool for all involved in the trade of such cargoes.
TMC are very pleased to have applied their long experience of investigating shipping casualties to this worthwhile project, and look forward to further such cooperation in the future. The booklet can be downloaded from:
https://www.londonpandi.com/_common/updateable/downloads/documents/bv_bulkcargoliquefaction_11x16_1703-page.pdf
---
January 2017
TMC is delighted to announce that Marcus Cave and Kevin Sibley have been appointed to the Lloyd's Panel of Special Casualty Representatives (SCR), as of 1st January 2017.
These appointments, in addition to the two established SCR's Stephen Tierney and Colin Barker, strengthens TMC's capability and availability to respond to Clients requirements worldwide in both SCOPIC and other casualty management situations including the preparation of BIMCO type forms of contract.
---
December 2016
Client loyalty has fuelled continued growth and TMC Medway has moved to larger offices. We are still at the heart of Kent with quick and easy access on the SE ports of the Thames and Medway rivers. All our contact numbers are the same as before and the office remains committed to both prompt and professional ship and cargo survey requirements 7 days a week.
---
December 2016
TMC welcomes Song who is a naval architect and project engineer who has supplemented his strong academic grounding with more than eight years' diverse professional experience. During employment with organisations including shipyards, oil and gas operators, EPC contractors and leading IACS-member classification societies, Song has completed concept studies, FEED, detailed design, transportation, installation, inspection, life-extension, project management and classification.
To view his profile, click here.
---
December 2016
TMC would like to welcome Paul who joined TMC in late 2016, before this he was employed, for 14 years, by two well-known Marine and Cargo surveying companies, carrying out all manner of vessel and cargo related surveys, representing, amongst others, the interests of vessels owners, P and I, lawyers, charterers, cargo insurers, brokers and cargo receivers. Subsequently, Paul formed his own independent cargo surveying company, which successfully operated in the region for 10 years.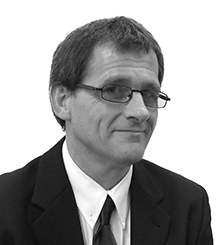 To view his profile, click here.
---
September 2016
TMC Marine have recently contributed to London P&I Club's Loss Prevention Focus.
To view our articles (Issues 4,5 and 6) please click here.
---
September 2016
TMC is pleased to announce that Chris Davis joined our Medway office in August 2016.
Chris spent 14 years at sea, during which time he served on a variety of vessel types.
He started his seagoing career in 2002 as a Cadet with Clyde Marine Training and worked on Multi-purpose/heavy lift general cargo, large Ro-Ro/containe
r, dredgers and offshore supply vessels.
Chris subsequently worked for BP Shipping between 2006 and 2008 gaining experience carrying crude oil, products, LPG & LNG throughout the world and at the time held both Oil and Gas Dangerous Goods endorsements.
Since 2008 until coming ashore in 2016 Chris has worked in the Offshore industry, sailing on offshore support vessels as 2nd Officer and then Chief Officer/Senior Dynamic Positioning Officer (SDPO) and has been involved in a range of projects in both the oil & gas and renewable energy sectors.
To view his profile, click here
---