Ivelin joined TMC (Marine Consultants) Ltd in January 2019, having worked previously on board a variety of vessels (Bulk carrier, OBO, Coaster, Container and MPP) as deck officer, Chief Officer and one year in command of MPP and containers vessels. He has experience carrying a wide variety of cargos including container, project cargos, iron ore, grain, steel, wood, coal, oil and cement.
To view his profile, click here
---
TMC is delighted to announce that Roger King has been appointed to the Lloyd's Panel of Special Casualty Representatives (SCR), as of 1 January 2019.
This appointment, in addition to the four established SCR's Stephen Tierney, Colin Barker, Marcus Cave and Kevin Sibley strengthens TMC's capability and availability to respond to Clients requirements worldwide in both SCOPIC and other casualty management situations.
Roger is the only Australian-based SCR practicing, and is very familiar with salvage operations particularly in the Asia-Pacific region.
---
On the 1st January 2019, TMC were appointed by clients on the loss and damage to containers suffered onboard MSC ZOE, during heavy weather whilst the vessel was en-route to Bremerhaven, Germany.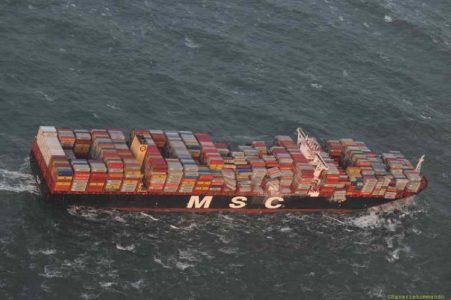 ---
Naomi started at TMC Medway in September 2018 after previously being an Emergency Management Co-ordinator for Civil Defence and Emergency Management in New Zealand. Naomi has a diverse background in emergency management including experience in natural disasters (tsunami, earthquake and severe weather events) and marine casualties, including the groundings of the RENA in New Zealand and KEA TRADER in New Caledonia. She has a range of experience in dealing with the environmental issues associated with marine casualties and salvage operations (co-ordination of shoreline/ oil spill response, community engagement and communication). In addition, she has worked for a range of government agencies including New Zealand Police and Customs.
To View her profile please click here
---
Thomas joined TMC in June 2018, after 10 years at sea, during which time he served on a variety of vessel types including Container vessels and Ro-Ro passenger ferries, as well as clean petroleum products and LNG tankers.
He started his seagoing career with Maersk Marine Services on Container vessels as well as serving in Maersk owned Norfolkline line on Ro-Ro passenger ferries. In 2010 he joined BP Shipping where he gained experience on clean petroleum product vessels with Framo systems, followed by significant sea time on LNG vessels, both membrane and moss type vessels.
To view his profile, click here
---
Jason Fahy, a Marine Engineer with a First-Class Certificate of Competency, joined TMC as a Marine Engineer Consultant in May 2018. He has 24 years sailing experience from Cadet to Chief Engineer. He has sailed predominantly on Class 1A1 Chemical Tankers for a Global Chemical Tanker owner and has considerable experience on medium speed engines, high voltage diesel electric systems and ancillary deck systems for high spec chemicals.
To view his profile, click here
---
Ian Hodges writes an article for The Swedish Club publication Triton, about loss control on tankers.
To view this publication, click here.
---
TMC was pleased to be appointed in January 2018 to assist the Shanghai Salvage Company in the difficult and dangerous attempted salvage operation of the tanker before it sank and is continuing to provide technical assistance in connection with the ongoing work on the seabed.
---
TMC were appointed by Steamship Mutual P&I Club in April 2017 on behalf of the ship owner to investigate the cause of the loss of the VLOC Stellar Daisy and the reason for a hull crack recently found in the hull of the VLOC Stellar Unicorn. TMC continues to provide technical assistance on behalf of the vessel's P&I insurers in connection with the tragic loss of this vessel
---
The removal of the grounded containership KEA TRADER from Durand Reef in New Caledonia has entered a new phase of operations. The selected contractor, Shanghai Salvage (SSC) has taken over the removal operations of the wreck from Ardent in early April. SSC have arrived into New Caledonia in late March, with both their onshore and offshore salvage teams, floating assets, and salvage gear. Initial surveys of the condition of the wreck and worksite have begun.
TMC continues to be in attendance as Owner's and P&I Club representative and continues to liaise with the local authorities and SSC for a successful wreck removal and return of the reef to its original state.
---